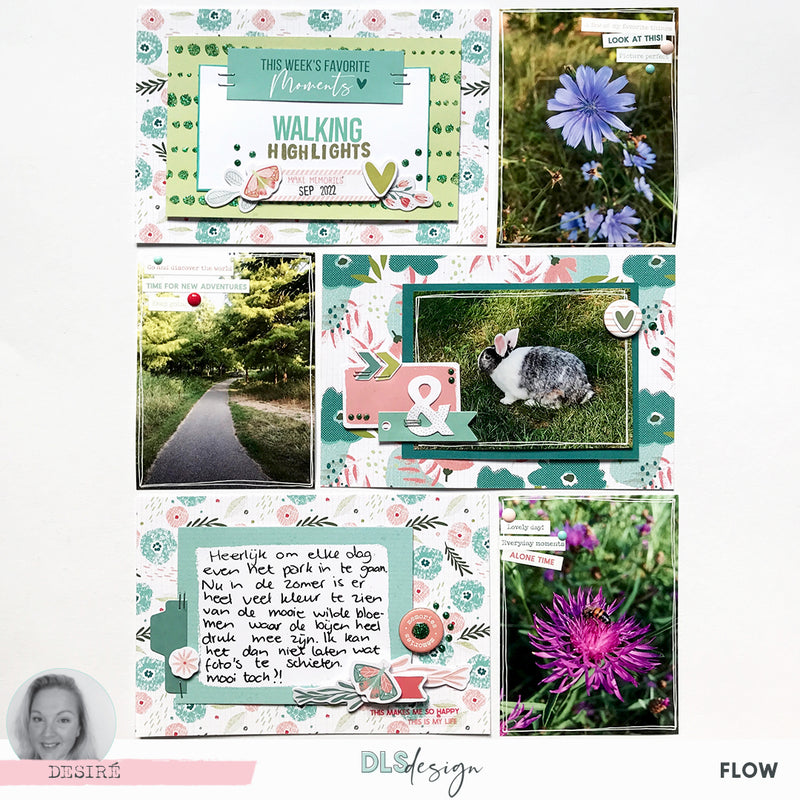 How to Start
Pocket Pages
By Desiré
If you've followed me a bit, you would know that I really enjoy making pocket pages to capture my memories.
I can imagine that when you see pocket pages, you might not know where to start. There are so many options and if you look on social media, complicated seems to be the norm.
But it doesn't have to be that way at all! In fact, making pocket pages is very easy! In this blog post, I will explain to you what pocket pages are and what you need to make pocket pages.
First, I want to start with a little bit of history. Before pocket page scrapbooking came about, most scrapbookers made 12x12 inch scrap layouts. Per page I would process 1 or maybe a few photos, but each page became a work of art in itself and each page would take me an hour or two.
In 2009, pocket page scrapbooking was born. Pocket page scrapbooking was invented to make memory-keeping easier and faster. You can put more photos than on a traditional page and there is plenty of room for storytelling.
Pocket pages are made with sleeves (page protectors) with pockets and (ready-made) cards.
Pocket page covers come in many different sizes and layouts, so there is always a cover that fits your number of photos and ideas. There are sleeves in 12x12 inches, 9x12 inches, 6x8 inches and also 3x8 inches, among others. I use all sizes interchangeably and combine them in my albums. That way even the little things in life can be captured for later.
Actually, the answer to that question is very simple. You need an album, page protectors, and pocket page cards (or paper that you cut yourself to size). That's enough to get started. On journaling cards you can put the story to go with the pictures.
Of course, if you want to decorate your pages, you can dress up this base with some embellishments like stickers, ephemera and stamps. You can make it as simple or complicated as you want. If you have time, then make it a party, but if you don't have that much time, little fuss is needed to make it a nice page.
Of course, if you want to make it easy on yourself, you can opt for the DLS Design Pocket Page Kit. The kit includes everything you need to make nicely dressed pocket pages. All you have to add yourself are page protectors of your choice and your photos of course! 
The Pocket Page kit makes it very easy and quick to create a page. It is very convenient that the cards in the pocket page kit are ready-made, so you won't spend time cutting paper. Everything from the kit fits together nicely and so you don't spend time looking for things together. You can choose a subscription where you get a nice kit every month to capture your memories. It is also possible to buy a separate kit and try out if a kit is something for you. Anyway, I really like how it works and it really makes memory keeping a lot easier and faster for me.
Start your Pocket Pages Journey
Find everything you need here!
Extra Inspiration and Examples
Community
Our community is full of videos and pictures of different projects, especially for all those who want to get more inspiration.
We have several layers and options within the community.
Want to learn more regarding our community?
📌 There is an inspiration layer where you can see various projects step by step.
📌 There are several boards, where you and other members can post messages and photos.
📌 There is a Be Inspired layer, where 6 to 10 process videos are posted each month. Follow our team members step by step as they create a project.
📌 There is a Be Creative layer for everyone who wants to see and know more about certain projects and techniques. There are several monthly videos and workshops especially for subscribers.