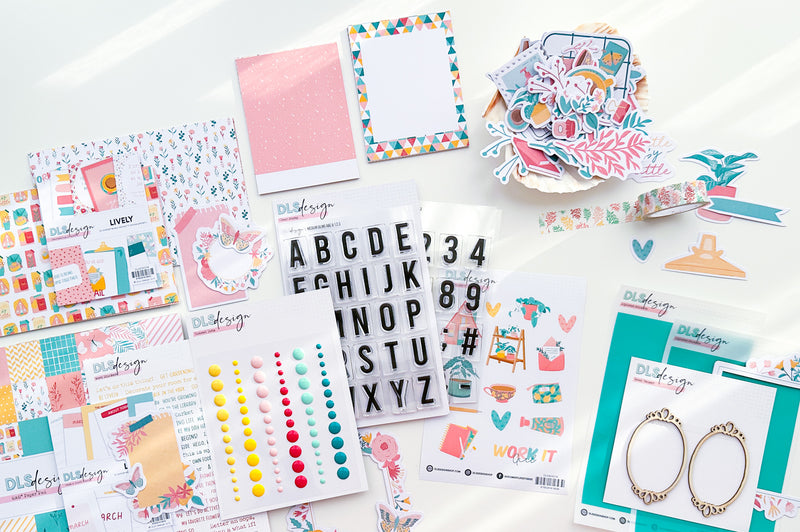 Capture Life & Document the Story with the [Document] Life Stories kits.
We make memories every day. Many of them are even captured in photographs, because in today's digital era, it has never before been so easy to capture everything the eye sees in images. And so we collect photo after photo on a computer, or phone.
Document your life stories and photos with the [Document] Life Stories kit. No more hassle of picking out matching products or finding the perfect embellishments. With our kits, we encourage you to focus on making memories and then capturing those moments. Spend time creating. We will do the rest.

✨ Memory Keeping made easy

A kit designed with the idea of making documenting as easy and enjoyable as possible. Delivered right to your door every month, with perfectly matching products and a color palette that returns throughout the year, so your focus can be on being inspired and actually making projects.

✨ Exclusive products

In addition to the discount on the products, the kits also include many exclusive products. Products that are only available in the kit and can't be purchased outside the subscription.
✨ Mix & Match

Our collections and kits are designed so that you can mix and match the collections with each other. Mix them with previous or yet to be released collections. Our varied color palette consists of different color families that through our rotation provide a new color scheme every month, while still matching other collections. This also makes it very easy to add your favorite color, thanks to our Color Essentials. Still have sheets left over from previous months, or embellishments? No problem, they will match any of the upcoming collections!

✨ Inspiration

Get inspired with one of the many examples from our inspiration team. Join our online community, and watch one of the many videos we are sharing. You can also share your projects with the other subscribers on our message boards.
✨ Variety

Each month's kit consists of returning, but also some changing products. For example, each month you will receive sufficient paper (sheets or cards), enamel dots, a 4x6" stamp, and ephemera. The other products rotate monthly, such as word stickers, puffy stickers, extra ephemera, stencils, washi tape, and more. So you can immediately expand your collection and also mix these products together.
✨ Discount

Being subscribed will save you money! Over 35% off products every month in the kit, as well as the opportunity to buy add-ons and other products at a discount. In fact, as a subscriber you have special offers and also receive a discount code every month for additional discounts on your purchases.


✨ Combine and save more

Run out of tape, or need a new ink? As a subscriber, you may order products during the month and have them combined with your kit without paying additional shipping costs.
The different subscription plans
✨ Scrap & Pocket Pages kit


Month-by-month € 39,99 or €42,50 excl. shipping.
Starting from € 37,50 incl. shipping with a subscription of at least 6 months for BE and DE, and € 47,50 for other EU countries.
Starting from € 34,99 incl. shipping with a subscription of at least 12 months for BE and DE, and € 44,99 for other EU countries.
✨ XL kits


Available in a 12" XL variant and a 6x8" XL variant.
This kit is not for sale separately without a subscription.
For a subscription of at least six months, you pay € 57.50 incl. shipping for BE and DE, and € 64,99 for other EU countries.
And € 52.50 incl. shipping for a subscription of at least twelve months for BE and DE, and € 59,99 for other EU countries.
Prices are per month and include shipping. Prices will vary per kit, based on the location we are shipping to. All pricing can be found below per kit.
The different kinds of kits
Extra benefits and promotions
When you become a subscriber now, you may also be eligible for a number of additional promotions and benefits.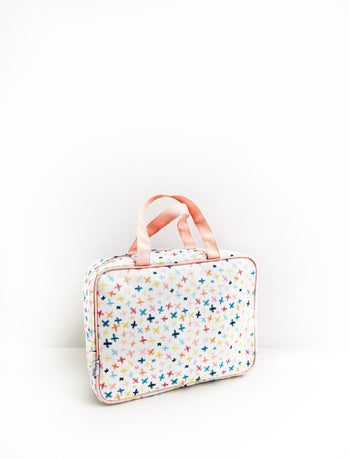 Exclusive Free Tote Bag
The tote is ideal for storing and transporting your supplies; at home, or to take to another location.
The bag has several pockets inside and is wide enough to hold 2 6x8" albums and additional materials. Paper pads? Pouches with embellishments? Your tools? No problem, it will find a place in this beautiful bag.
The bag is not for sale and is only given as a gift if you take out a subscription for a minimum of 12 months.
Community
When you become a subscriber, you will receive a discount on our community while your subscription lasts. Our community is full of videos and pictures of different projects, especially for all those who want to get more inspiration.
We have several layers and options within the community.

Want to learn more regarding our community?
📌 There is an inspiration layer where you can see various projects step by step.
📌 There are several boards, where you and other members can post messages and photos.
📌 There is a Be Inspired layer, where 6 to 10 process videos are posted each month. Follow our team members step by step as they create a project.
📌 There is a Be Creative layer for everyone who wants to see and know more about certain projects and techniques. There are several monthly videos and workshops especially for subscribers.
As a subscriber you receive up to 75% discount on the community while your subscription is running. You can take advantage of this offer during the conclusion of your subscription.
Past kits
A selection of some kits already published